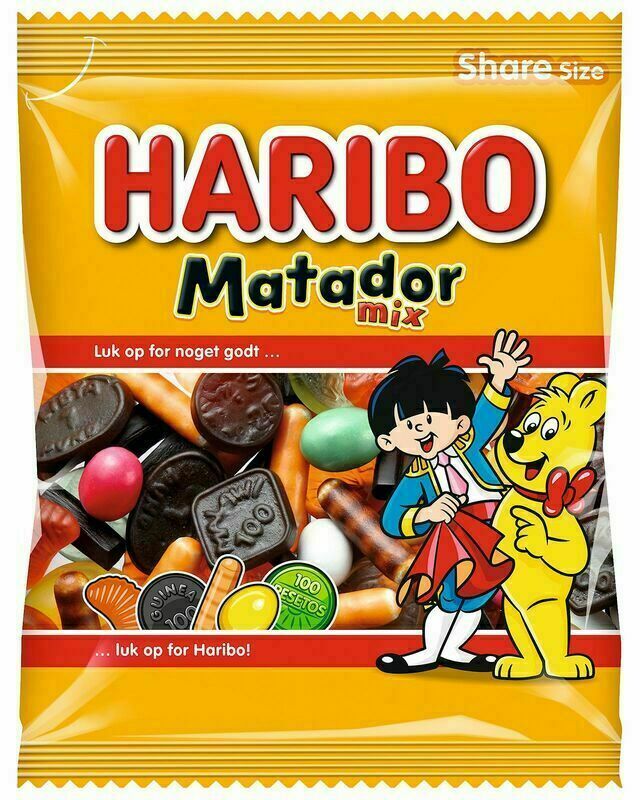 Available, delivery time: 1-3 days
Product information "Haribo Matador Mix 375 g"
The Haribo Matador Mix brings variety into the bag. Because the mix consists of soft fruit gum, spicy liquorice and liquorice dragees with a sweet coating. There is something for everyone in the colourful mix, whether Lakrids Aeg or Labre Laver - enjoy the fruity and aromatic variation from Denmark and let yourself be surprised. This is because the mix is put together randomly, so you can eat different varieties from each package.
Ingredients: glucose syrup; Sugar; brown sugar syrup; Wheat flour; Gelatin; Corn starch; Dextrose; Licorice extract (3% based on the licorice content);
Acidulant: citric acid; Fruit and vegetable concentrates: spirulina, safflower, apple, lemon, radish, sweet potato, carrot, black currant, hibiscus; Invert sugar syrup; Salmiac salt; Aroma; Caramel syrup; Table salt; Colorants: curcumin, real carmine, copper-containing complexes of chlorophyllins, biochar, titanium dioxide; Release agent: talc; Vegetable oil: coconut, palm kernel; Coating agent: beeswax
white and yellow, carnauba wax; Preservative: sorbic acid.